Claire
"
During the four years in university, I studied German and in my junior year, I got the opportunity to study as an exchange student in the University of Bonn in Germany, which was the first time I went abroad and became a most unforgettable experience in my life. During my study in Germany, I went to Bonn, Cologne, Frankfurt, Heidelberg and the Netherlands, where I experienced the exotic culture and history, and felt the diversity and inclusiveness of the world.
After graduation, I had engaged myself in some lines of jobs, one of which was translation. But these jobs brought me only income, and I always remembered why I started learning foreign language in the first place. Therefore, I came to Asia Odyssey travel co., LTD. With this job, I have more opportunities to make friends, and I can have a more comprehensive understanding of my motherland. I am proudful to share China's local customs and beautiful rivers and mountains with friends around the world. Body and soul, at least one out of the two should be on the way!
"
Tibet Travel Suggestion from Claire
Why you are not suggested to travel to Tibet if you have a cold?
People with colds are normally with inflammation of the trachea and lungs, which can lower the body resistance. Low levels of oxygen in the plateau may easily convert colds into other high altitude diseases such as bronchitis, pulmonary edema or pneumonia. Especially pulmonary edema, which is a high-risk plateau disease, it is can even put your life in danger without timely treatment. In addition, it takes a long time for a cold to heal in a plateau.
Colds are not serious for Tibetan people because they live there for a long time, adapting accordingly, and the body's immunity and resistance are relatively high. For people who have been living in the plains it can be dangerous. Therefore, it is not recommended for people who have colds or about to have a cold to go to Tibet. You'd better go after your cold is recovered.
Our sales team of specialists in creating tailor-made tours is always at your service to satisfy client's demand. We personalize our services in accordance with your particular profile and your travel guideline. Moreover, our team is professional in providing travel notes on Tibet tour and are highly qualified to give advice on proposed services and itineraries.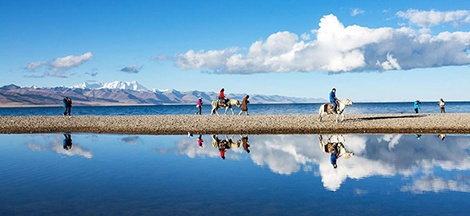 Meet More of Our Team Members